Josey-Mitchell Youth Avenger MJ80
---

The absolute best youth saddle on the market, the MJ80 Josey-Mitchell Cash Avenger solves the #1 problem for youth riders: being thrown forward on a run. Built with forward hung fenders, this saddle will help young riders learn balance and confidence in style.
Specifications
Seat Color: Blue Halo, Chocolate Suede with Turquoise Quilting, Chocolate Suede with Pink Quilting, Grey Suede with White Quilting, or Copper Mauve
Leather Color: Chocolate or Antique
Tooling: 1/2 Floral Tooling with Border
Tree: Ultimate DURAhide Regular and Wide
Hardware: Rockin' Out Floral Cross
Rigging: 3-Way Adjustable In-Skirt
Swell Width: 13″
Cantle Height: 5″
Horn Size: 4″ Neck, 2-1/4″ Cap
Skirt Size: 13.5″ D x 22.5″ L
Weight: 26 lbs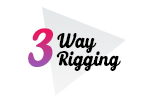 3-Way adjustable in-skirt rigging with several rigging options and positions to best suit fitting all of the different horse conformations.